Use Soul carrier every day at home
Posted by SOUL BABY CARRIERS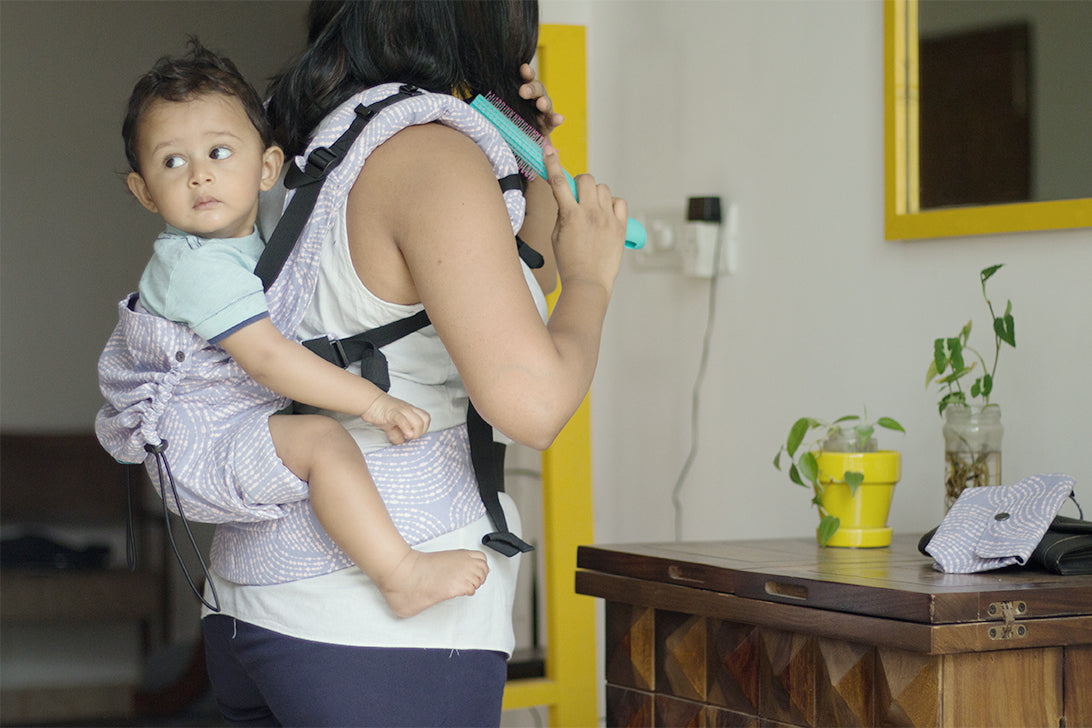 Most of us know by now that a baby carrier is a huge help when you are outdoors with your child, but a lot of us miss out on the massive benefits of babywearing indoors. While we all have stayed home these past weeks, you might not have used your baby carrier as much as you were before, and we are here to tell you why you should definitely be babywearing at home.
Wearing Newborns
Are you pregnant or have you recently given birth? Wearing during the Fourth Trimester has huge benefits for both baby and parents. New babies are just getting used to this world, full of new sounds, sights, smells, and sensations. They feel safest and most comforted when carried warm and close. When your body is tired from being a new mama, a carrier allows you to hold your baby, without any additional strain on your arms and back. Those countless hours rocking your colicky baby? It can be easier and more gentle on you with a carrier supporting both you and your babe.

A carrier is also a wonderful tool to help other family members bond with the new addition. Newborns sleep a lot, and some of them sleep better on a warm, familiar person. Grandma, dad, or even big sister, any of the family around can wear the newborn for a cosy nap while mum gets some time for herself.
At home and handsfree.
We know just how much we carry our babies during the first 3 to 4 years. How often have you found yourself balancing your toddler on your hip while attending to another task with your one free hand? Introduce a baby carrier into this scenario and you can be completely hands-free while meeting baby's need for touch and connection, keeping them close to you.
The weight is distributed evenly when you use an ergonomic baby carrier, this will help your posture, avoid aches and strains, and allow the baby and you to be comfortable for longer durations. While the baby settles in the carrier, you can attend to chores - food prep (no fire or heat cooking while babywearing, please!) laundry, cleaning up, watering the plants; or take a break for yourself - grab a cuppa and relax, take a walk, listen to a podcast or some music, hands-free!
When you have two
When a new baby comes along, toddlers have many different ways of handling their new role as a big brother or big sister. Sometimes they are faced with big emotions and may need your attention even more than they did before. Babywearing your newborn frees your arms and hands, and that is a blessing when you need to be there for both your babies.

Your little newborn squish will sleep contentedly for at least an hour in the carrier, while you take this time for your older one. You can make it special for them by doing something they love - read them their favourite book, work on a craft together, head outside for playtime, or wear the little one and prep your toddler's favorite meal, while they help you with it. Let them feel involved and show them that everything stays the same even with the arrival of another baby in the house, your hands and your heart have enough room for both your babies.
When they need it
When it comes to toddlers, there can be new experiences and emotions every day. Their favourite cup this morning, might be thrown in anger by late afternoon! Growing up is hard, especially as they try to find their independence while being so little. Babywearing can, in a few minutes, soothe an upset toddler. It allows them to feel connected - being held close, your scent, the sound of your calming voice, hormones - this takes them back to a familiar place of comfort.

You can go about your day with your toddler on your back watching the world from over your shoulder; you can do chores while they are busy asking all their questions, learning along the way. Your work gets done and they are content to have had your attention, so it's a total win-win situation. Toddlers mostly watch and learn from us, wearing them while we get basics done is one of the best ways to set an example.
Baby sleep
The one thing that every good doctor and parenting advisor will tell you is the importance of sleep and a nap routine for your baby. A baby carrier is a fantastic tool to use to make sure your baby gets their naps in on time and can help caregivers greatly with the whole process. Introducing the carrier early and making an association with sleeping in the carrier can go a long way in making naptime that much easier.
With newborns, the carrier mimics the womb experience, helping them fall asleep faster and stay asleep for longer. A carrier is deeply soothing for a new squish who may be overwhelmed by their surroundings and too distracted to fall asleep. It also will save your arms and back, if your baby needs to be rocked and swayed for a significant amount of time to nod off. As your baby grows into a toddler, their naps drop in number, and their sleep routine changes often, dare we say the dreaded phrase - sleep regression! A baby carrier can help make these transitions smoother and helps your little one adapt with ease.
We want you to know that it is not a bad thing to wear your baby to help them fall asleep, and it is not at all a bad thing to let your baby stay sleeping on you if you cannot transfer them to the bed/crib. You cannot "spoil" a baby, your baby will grow up and be able to fall asleep on their own when they are developmentally ready. Trust your instinct and hold that baby
Working while wearing
A big part of the new world we are in is that many of us are working from home more and more. Juggling housework, a career, an older one, a marriage, a personal life, self-care, and more, with a baby in the picture, can seem impossible! Keep calm and babywear! A carrier gives you the freedom to do something else while meeting your baby's primal need to be held. Take work calls with a sleeping baby in a carrier or attend to your chores while chatting with your toddler on your back. If you need to work with a baby around, a carrier can be a lifesaver. Collection 2019 Sale 70% Off Title for image