Babywearing through Covid-19
Posted by SOUL BABY CARRIERS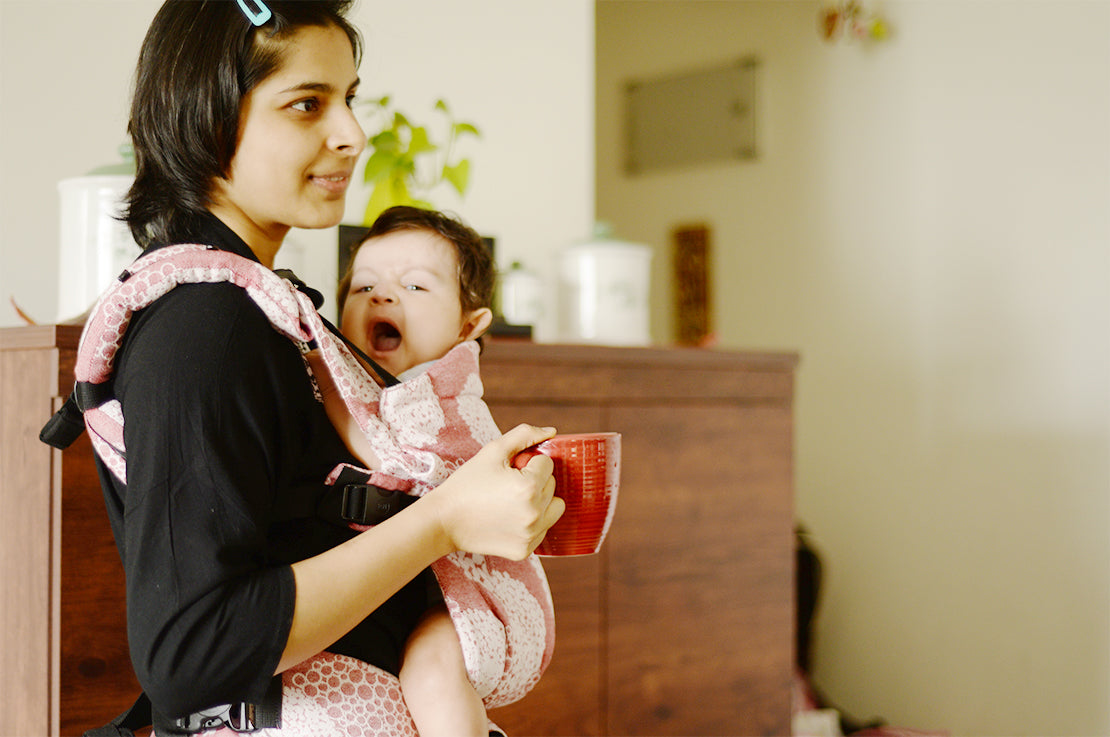 Most of us know by now As we all adapt to the "new normal", babywearing is a very useful parenting tool that can and should feature more in our everyday life, as we stay indoors with our small children and practice social distancing while outdoors. Here's all you need to know about babywearing during this time:
Wearing Indoors
- Wearing your baby indoors can be very calming for both parent and baby. During this stressful time, take a few moments to hold your baby.
- Having your baby close to you and being hands-free means you can get through your to-do list while keeping your little one engaged/napping in a carrier.
- Carriers are great to use for naptime - dim the lights, sway and sing a bit, and watch your sleepy baby doze off in minutes. Either transfer the baby to the bed or let them sleep in the carrier if they are a light sleeper.
-You can do food prep, house cleaning, light exercise, walking/stair climbing, attend calls, and so much more, with your baby in a carrier!
Fit Checks
- Make sure you and your baby are comfortable in your carrier.
- You should not feel any pulling, straining, or aches anywhere. When worn correctly, a carrier distributes the weight evenly on your body.
- Baby should be well supported and not slumping or leaning in the carrier. Their thighs need to be supported with their knees higher than their bottom.
- Did you know that our team is available for fit checks? Book your session now.
Stepping Out
- If you have no help and need to step out with your baby, a carrier is a life-saver!
- Choose an appropriate time to step out. It would be best to step out when your baby is asleep in the carrier (at naptime) so that you can attend to your work with no requirement to engage your baby.
- If you have more than one carrier, use one for outdoors and keep it separately. Use another one indoors. Don't mix them up.
- Avoid touching your carrier too much when outside. Carry a sanitizer at all times. After returning back home, wash your hands thoroughly before you remove the baby/before you unbuckle.
- Reduce the exposure by pulling up the hood and covering your baby's head while stepping outdoors.
- It would be best to visit smaller grocery stores. If you do visit walk-in stores, do not touch things you are not going to buy.
- Use your phone and money transfer apps to make payments digitally. Avoid accepting physical currency
- It is advisable to wash your carrier after every outdoor use. Please follow our wash and care instructions.
Please do not use a mask for your infant.
While it is important to maintain safety, babies under the age of two should not use a mask covering the nose and mouth.
Keep Calm and Babywear
There are not enough reasons to wear your baby. It is, in fact, a very useful tool during the lockdown period. Less crying and more undisturbed sleep will help your baby stay calm and reduce your stress overall.
Disclaimer: These are broad guidelines and suggestions from Soul. Please always follow the safety measures imposed by your national Government.
We are taking all precautionary measures, as per our local government's direction. All of our Soul team members are working from home and we continue to be available through all our online channels. If you have any specific questions, reach us at hello@soulslings.com Collection 2019 Sale 70% Off Title for image